Room Rentals
Reiher Family Meeting Room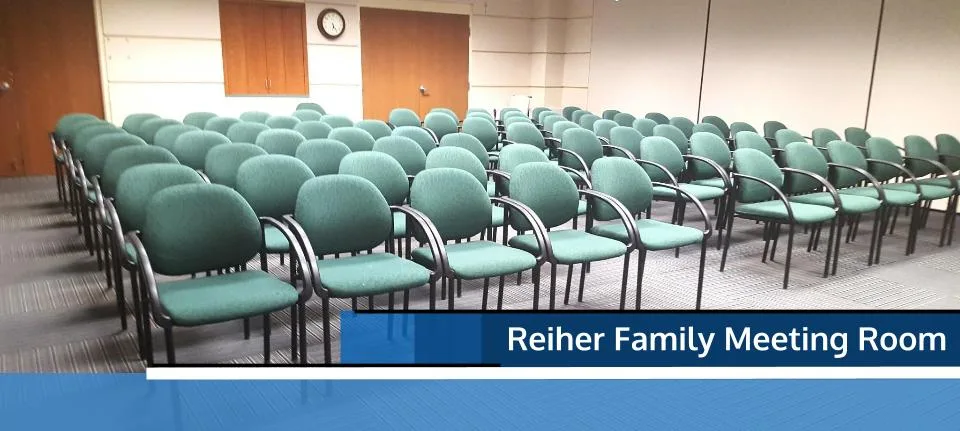 The West Caldwell Public Library offers its Reiher Family Meeting Room to local organizations for meetings and community programs.
The Reiher Family Meeting Room is open to organizations engaged in educational, cultural, charitable, intellectual, advocacy, civic, religious, or political activities. 
The priority of the library is to meet the needs of the library and schedule use of the Reiher Family Meeting Room in priority order as follows: the Library, the Friends of the West Caldwell Public Library and the West Caldwell Municipality. 
When the Reiher Family Meeting Room is not scheduled for a program sponsored by a group listed above, the Library will then allow organizations to reserve the Reiher Family Meeting Room. 
Groups may reserve the room up to 3 months in advance and no more than one meeting in any four week period.
All meetings should be held between the following hours:
Monday- Wednesday 9am – 7:45pm
Thursday & Friday 9am – 4:45pm
Saturday 9am – 4:45pm
The West Caldwell Public Library offers three Study Rooms for patrons who require a quiet area to read, study or work in a group.
Please read our policy below before contacting the Reference Department at 973-226-5441 to see if you can reserve a space.
The West Caldwell Library has three study rooms available for quiet study located in the reference department.
These rooms are available on a first-come, first-serve basis; however, West Caldwell cardholders are given priority and will be able to make a reservation up to one week in advance.
Reference librarians will ask at the time of the advance reservation for a valid West Caldwell library card.
Non-West Caldwell cardholders may call the morning of to reserve a room.
Study rooms may be reserved for a maximum of two (2) consecutive hours.
Accommodates up to 3 people
Accommodates up to 6 people
If no one is waiting to use the room, it may be used in increments of 30 minutes until other users arrive.
Approved 07.15.03
Amended 09.14.16
WCPL Board of Trustees